Karma


Karma is one of the last remaining true funk bands in Kansas City. Staying true to the roots of the funk, Karma brings a great show every time!
Inquire About Karma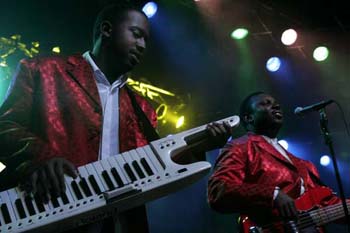 On the KARMA stage, expect to see extravagant costuming and colors, flashy dance steps, stick twirling, guitar wizardry that recalls the sounds of Motown's amazing Funk Brothers, Bass guitar bottom end that would make Bootsy Collins blush, keyboards, stellar vocals and Kansas City's most versatile and handsome trumpet player (never hurts when it comes to grabbing the female audienceís attention). But it doesnít end with looks. The KARMA song styles date back to the days of Motown with influences such as Marvin Gaye, The Temptations, and Aretha Franklin, to the latter 60ís and 70ís with Earth Wind & Fire, Kool & The Gang, and moving along smoothly to the 80ís with Cameo, Prince, and Michael Jackson. KARMA is also known to keep up with current trends as well jamming with the likes of modern day artists such as Tech N9ne, Outkast, Nelly and Ludacris.

Each individual has a long history of performing music both regionally and nationally. Members of KARMA have performed with and opened for a vast variety of recognizable artists such as: Cameo, George Clinton, The Gap Band, Bloodstone, Parliament Funkadelic, The Jerry Garcia Band, Roger Troutman and Zapp, Marvin Gaye, The Eagles, Billy Goat, R. Kelly, The Whispers, Shirley Caesar, Denise Williams, The Urge, Sister Hazel, Moe, Motley Crue, Skid Row, Lakeside, The S.O.S. Band, Midnight Star, basicallyÖtoo many to name.

KARMA continues to bask in the reputation for having one of the wildest and most entertaining shows in the Midwest - period. Even for the many who don't enjoy funk or R&B music, it's absolutely undeniable that KARMA is an extreme display of showmanship to behold, and once you hear whatís going on, you canít help but have a good time.